CM
They always said that about the Ellen Degeneres show and then ITV2 picked that up.
:-(
That doesn't rate well. I bet there got some cheap deal.
CM
Well it must rate enough for them to keep it on...
JW
Christine, Coleen, Stacey and Linda were all at the new studio yesterday afternoon.
The latter three are back in the old studio today with the LIVE show, along with JSP. Quite an amusing quartet it would seem.
WH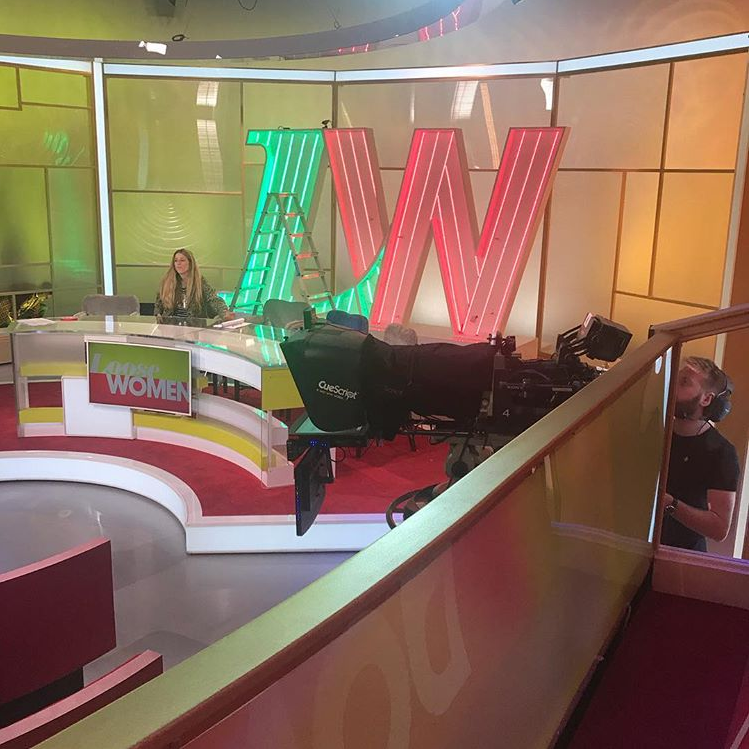 Good that I got a screenshot of it before then.
Since this pic was revealed, the set has reminded me of something I've been unable to put my finger on. But I think it's the Five News set from 2005 when Kirsty Young rejoined.
TF
Does the set have a ring above the desk like the BBC News set does? I can't see well, lol.
03
Interesting what will happen when they move back to the new studios in a few years. This set seems really tight to me. Hopefully one day they get a set the feels a bit more permanent. I know this set has to move around because of Lorraine. But it the show has established itself as a keystone of daytime ITV programming, the set, IMO should feel that way. Hopefully when they get back, ITV will give them something I think they deserve.
I must say I disagree. I'm sure 99.5% of the viewers of Loose Women don't realise that the studio was Lorraine only a few hours before. At no point do I think the current Loose Women doesn't feel "permanent". As you said yourself, it's a "keystone" of ITV programming, and therefore I'm sure the set has been designed to both look professional, but also be practical.
I've been to see multiple shows at
TLS
- LW, The Chase, Alan Carr... I must say everytime I'm a little disappointed at the sets. I guess it's the magic of television!