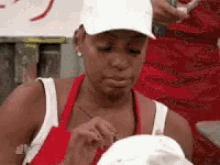 Fox Business former journalist Maria Bartiromo interviews fake Pork CEO on air. Turns out he is actually a Animal Right Activist! What clown is running this network.
Maria Bartiromo Duped Into On-Air Interview With Animal Rights Activist Posing as CEO of Pork Giant https://t.co/7EsqOEcHw8

— Mediaite (@Mediaite) December 23, 2020
https://www.mediaite.com/tv/maria-bartiromo-duped-into-on-air-interview-with-animal-rights-activist-posing-as-ceo-of-pork-giant/
Apology for dispensing actual fake news
Quote:
We have an important correction to make. It appears we have been punk'd. Earlier in the program I interviewed someone claiming to be the CEO of Smithfield Foods, Dennis Organ. We've since learned that that was not Dennis Organ, but an imposter making false claims about the company. He is someone who has absolutely no relation to Smithfield Foods, we want to apologize to Dennis Organ, Smithfield Foods, and to our audience for making this mistake. We will of course be more vigilant.
On the same day WaPo and LA Times do non-flattering write-ups on her. Major "L's" for Maria! https://t.co/x75226uSeT

— Coverage Notes (@coveragenotes) December 23, 2020
Last edited by Mouseboy33 on 23 December 2020 4:53pm