LY
DISCLAIMER: This is my first ever design on here and I've been apprehensive to post my ideas since I know that The Gallery will tell it like it is. Usually my Gallery interactions involve providing critiques other designs and lots and lots of lurking. But I've been working on different elements of this project to distract me from the horrors of the real world and two weeks later I decided that a couple of elements were "ready" to go. So if I seem like I'm not writing in a cohesive or normal way, it's probably because I'm nervous. Either way, I really enjoy designing logos and presentation so I wanted to post this idea. Hope you all like it!
Since Trace rebranded the remaining Chart Show channels, I've thought the whole thing was handled poorly at the least, and certainly not the fate I wanted these channels to see. But...what if this didn't happen? What if Trace had instead
kept
the Chart Show TV brand and used it to rejuvenate the lineup of channels? Bit of a fantasy scenario but it gave me some ideas on what I'd do differently.
First of all, the logo: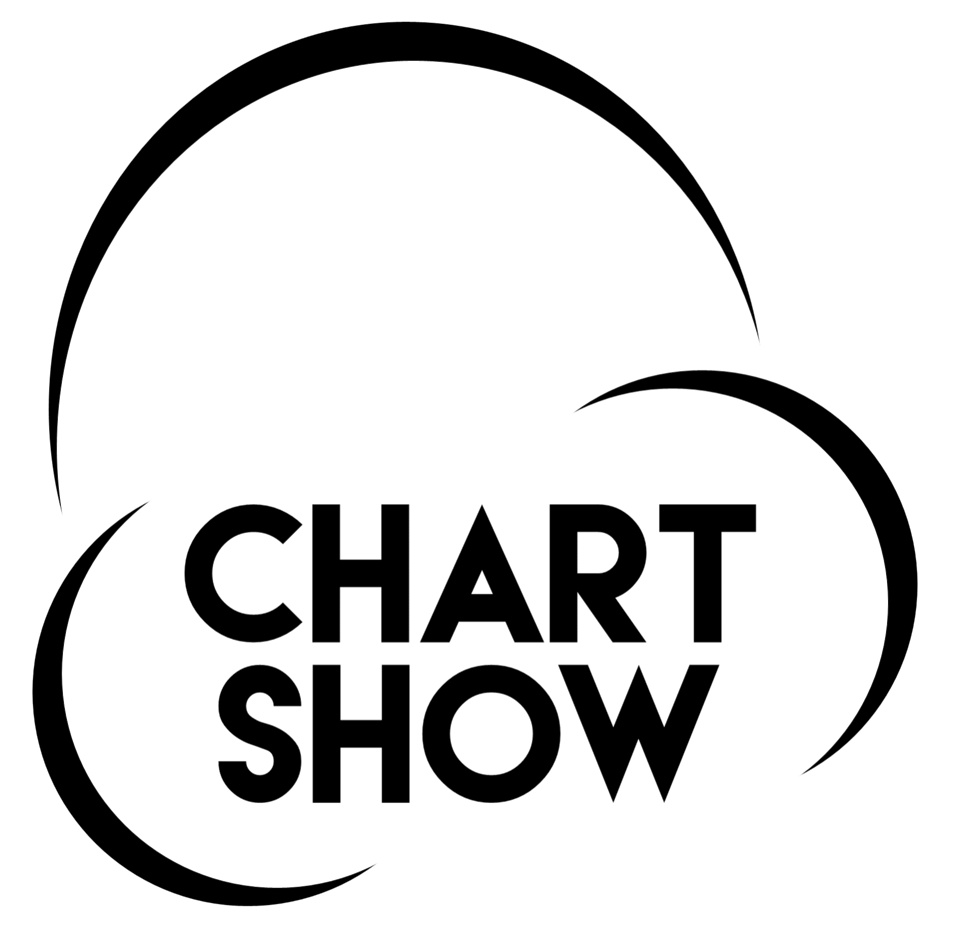 Sorry if it's a bit large. Again, first timer
I wanted to keep the headphone motif - it's become a real staple of the channel and I've always liked it. For my take on the logo, I decided to make this motif more abstract and use curves from overlapping circles to form the general shape of the headphones. One reason why I went more abstract is, simply put, the old more-literal logos came across as dated in the age of AirPods and streaming. Also, I wanted it to translate better to smaller sizes. (this might be my quarantine brain talking but) the logo also reminds me of a cloud plus the 2000s era Disney Channel logo.
I altered the kerning on the wordmark so that the O and the W had a more natural spacing, plus the end of the W lines up with the bottom of the T. I did try and incorporate 'TV' in the logo but every place I tried to put it just looked shoehorned in and not like it was supposed to be there. So it would have to be Chart Show on screen but the proper name still has TV in it.
As for the rest of the Chart Show channels I went with quite a conventional naming scheme and logo formation: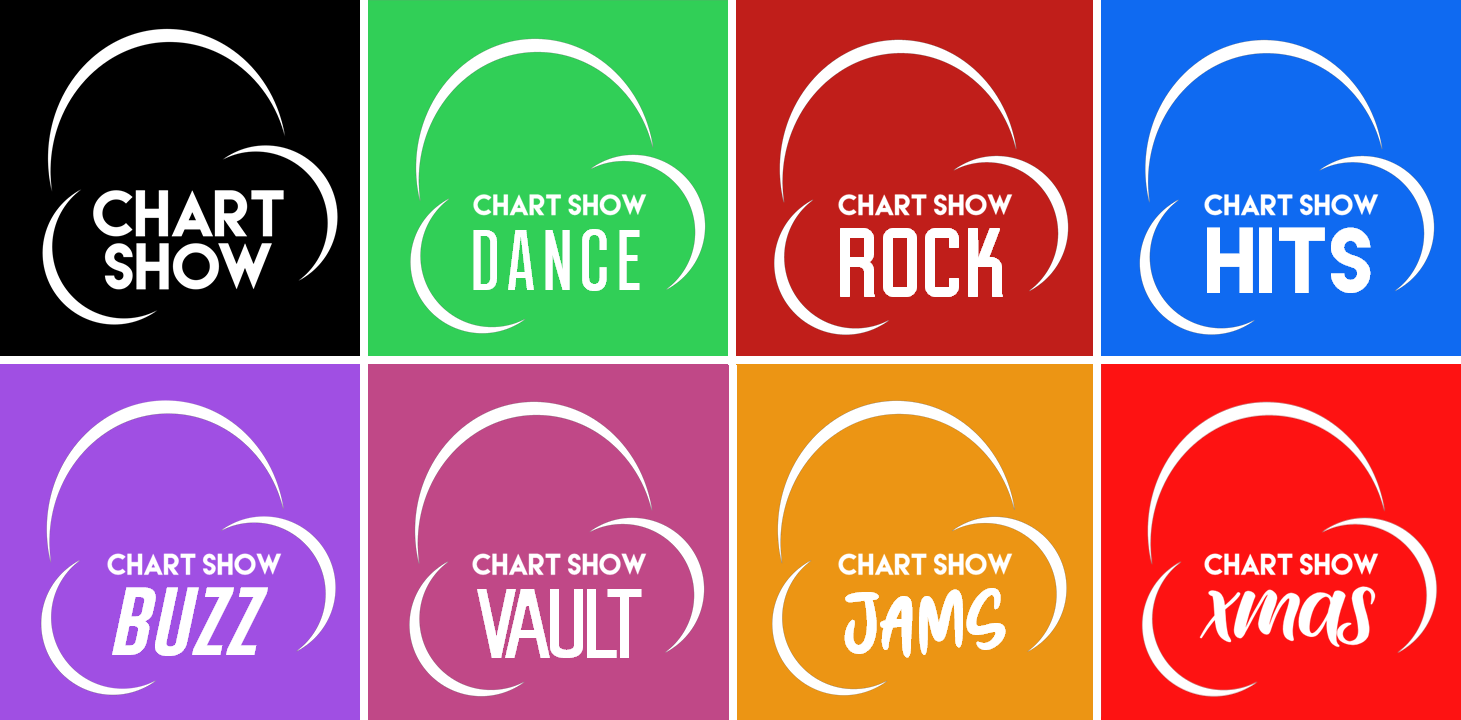 A full Chart Show channel portfolio.
Stacked wordmark didn't work with the other channels so I kept the Chart Show name to a single line on top of the channel-specific names. Channels are as follows:
-
Chart Show
– flagship channel, focuses on current chart music and relevant trends
-
Chart Show Hits
– pop and music from 2000s and 2010s
-
Chart Show Vault
– music from 90s and 80s (would be tailored back to music rather than scripted series)
-
Chart Show Buzz
– music you choose, primarily chart-based (successor to Starz TV and BuzMuzik)
-
Chart Show Jams
– hip-hop, R&B and rap (successor to Flava and the current Trace Urban)
-
Chart Show Rock
– rock, indie and alternative (successor to Scuzz)
-
Chart Show Dance
– dance, electronic, house, EDM, etc. (successor to Flaunt and Dance Nation)
-
Chart Show Xmas
replaces Chart Show Hits during December and focuses on, ya guessed it, Christmas music.
I decided to go for a bigger channel line-up reminiscent of the CSC days. Some closed channels have spiritual successors in the new lineup and some of them are even returning names. I considered
Chart Show Gold
as a channel but I decided to keep the more established Vault brand as it's a good archive music channel that isn't just the golden oldies. Unfortunately Starz TV didn't survive, as nostalgic as I am for that channel, because the bigger and more prestige Starz brand in the US has entered the UK market. I like to think Buzz is a good replacement. Hits is the only channel I didn't give an extra font as I see it as the second-in-command to the main channel. But I did
a lot
of back and forth on which fonts would work best for each channel, so each of the others feels like a genre-specific channel rather than just extending the style of the main brand with no tweaks. Each channel also has their own signature colour as shown in their logos.
One issue I have with the logos at the moment is that there's a little border from the background transparency tool on PowerPoint (this is a PowerPoint mock, guilty as charged
) and it's particularly evident with Dance, Jams and Xmas. I'm currently figuring out how to fix that but it's a work in progress.
Here is an example of on-screen graphics for the main channel: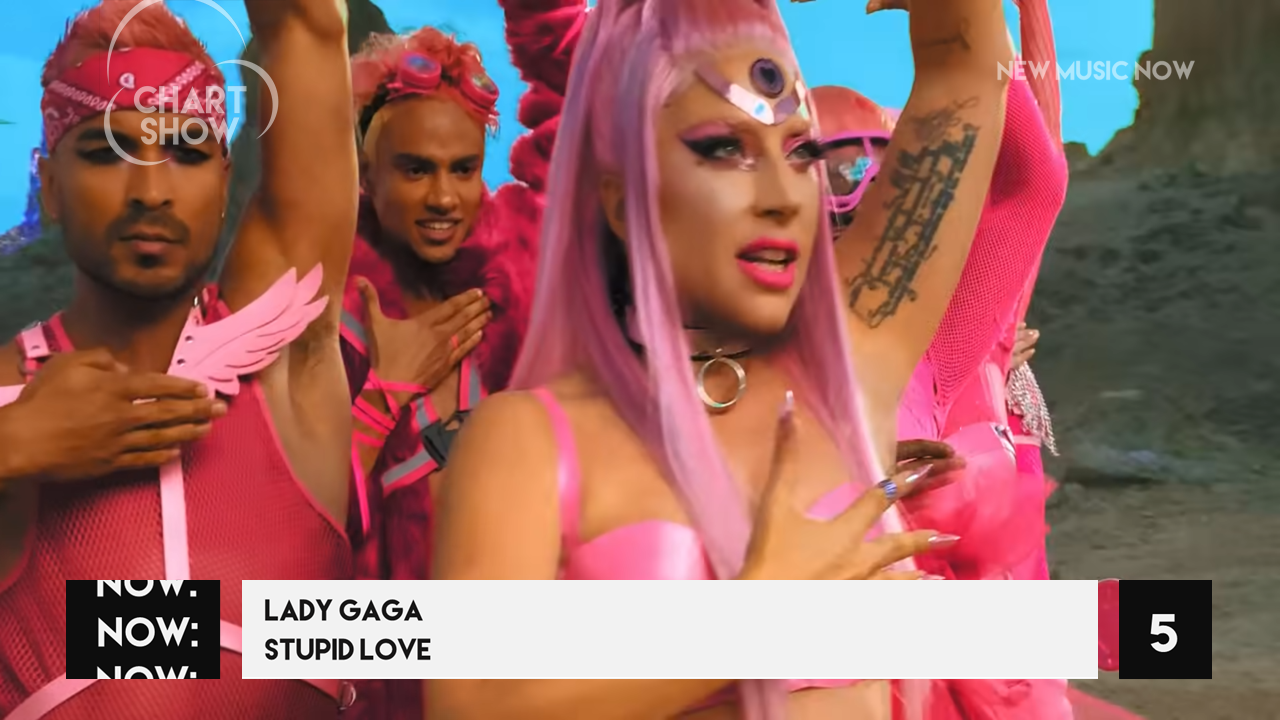 The graphics should conform to the 16:9 safe zone with the deliberate exception of the
DOG
, which hangs from the top of the screen. This ended up being the best option in terms of size and positioning.
I wanted to keep the graphics 2D and flat - so far I've gone with a simple block style with a scrolling 'NOW' graphic within the block. It definitely is a more basic look and particularly for the main channel where the signature colour is black. All of the channels would have white as a prominent colour on graphics, but the second colour will change across channels to match each one's signature colour. For instance, here's what Chart Show Buzz would look like: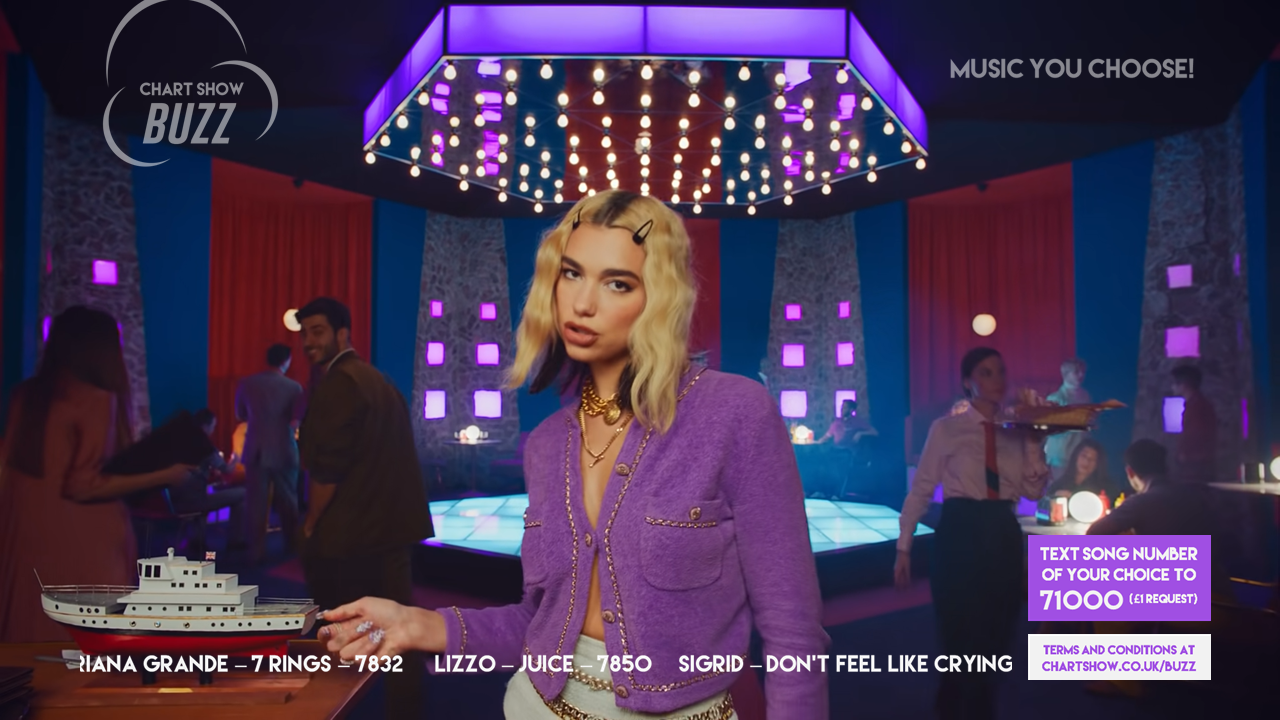 Whereas the main channel has black text on white/white text on black, Chart Show Buzz has purple instead of black.
The graphics on Chart Show Buzz would be very similar to late-era Starz TV with a simple ticker down the bottom with song codes. I moved the instructions to the bottom and boxed them to make them stand out more. If you have an interactive channel, the instructions should be relatively bold.
As a bonus, here is one of the concepts I briefly tried for a bumper still: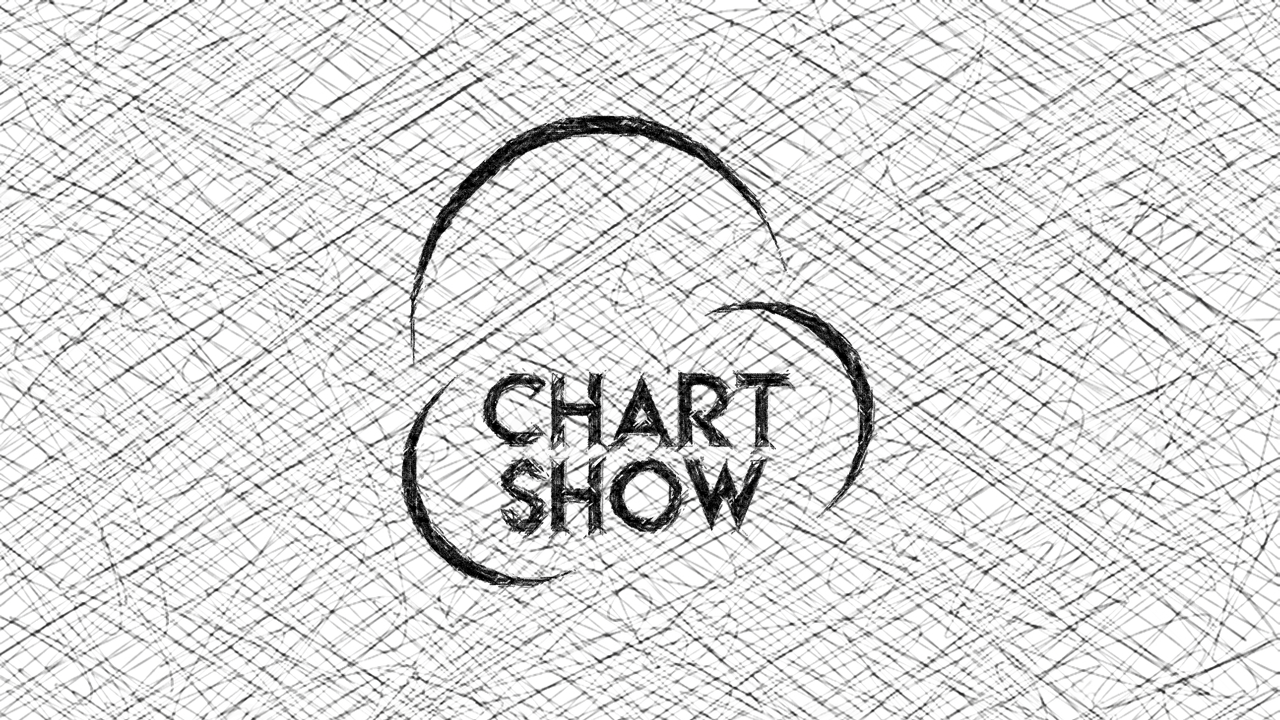 The idea was to do bumpers directly inspired by iconic music videos. The one I tested out above is inspired by A-ha's Take on Me. This is the only bumper in this 'series' because I ran out of decent ideas
Overall I think even though that's a cool idea on it's own, it doesn't really mesh with the theme of the channel, which is
current
chart music. So that one was scrapped but I thought it would be a fun bonus shot.
Feel free to let me know what you think of this. I'm continuing to work on this project and I want to take on board feedback to make this better, even with the limited software I have. Any advice or critique is appreciated.
Last edited by Lynetwork on 21 June 2020 10:02pm