CR
So, it's been a while, and since last year I've been working on and off on a studio mock for BBC Scotland. It started way back before we'd seen anything from Broadcasting House, and was designed to fit into the same space that the current set fits in, but to also be more appropriate for Sport and Newsnight - Mike W even kindly modified some of his newsroom backdrop mocks to put in a Glasgow Skyline (which are sort of in the old render below), and then I never published the mock! The original isn't that great, upon review, and looked something like: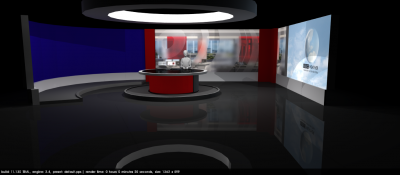 (The blue part was a section of screens, but I set them all to blue because I hadn't read up on how to use the software properly at the time and was getting upset by weird texture positions)
It's badly lit and doesn't look very convincing, but it did, at least, just about fit in the space.
After this, the mock died a death, until earlier this month, when the Review Show started coming from the atrium at Pacific Quay, which meant that half of
Studio C
was now empty, so in theory, BBC Scotland could use the full space of the studio to create a much nicer studio space for all of the BBC News and Sport output in Scotland. The mock does take some creative license as this would be an expensive set to create, so let's say that News and Sport put a big investment behind a new, multi-purpose studio. And so, I present a micro-version of Studio B at Broadcasting House. But first some dimensions:
Studio C is 180m squared, which I took to be 10m x 18m, which is pretty big. But then, we've been told there is a large lane running from one side of the studio to the other, so our usable space goes down. I've also included a lane around the edge of the sets, because it's been said that you need one for fire regulations, although
N6
never had one, so I cannot be sure if one is needed. Either way, there's about a 1m gap around the edge of all the sets. From here, I went and created the studios, which I show, in rendered form, in set-ups for Reporting Scotland, Newsnight Scotland, Sportscene and Sunday Politics Scotland. So, here we go:
Reporting Scotland
And we start with the left hand side of the studio: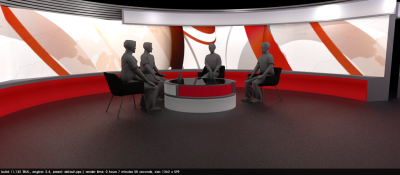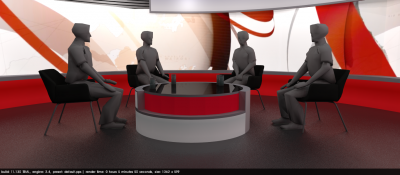 This left hand side clearly takes cues from Studio B in London, and features some form of screen (be it rear-projected or LED), which is split into 5 square segments. The display on the screen is cheekily pinched from Martin's BBC World News recreation (should have asked, Martin - sorry!), and does make it look a bit dull and generic, so I'll try and find something better to replace it with. Below and above it is a colour-changing strip, with the grey bars we see in London in Studio C curving around the display too (the grey bars substituting the wrap-around coloured strip in London, as there has to be some limit on cost!) The desk set-up is very simple. and is pretty much an identical copy of the one in London, with some chairs around the edge. I don't think the lighting is perfect, but I think it's getting there. There's no additional panelling like that used for Marr in London, as it would stretch into the access lane. I would assume such a thing would be a lightweight construction and easily moved out of the way after programmes, behind the screens, so I might add one in later.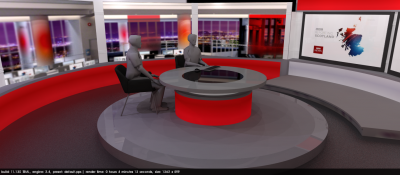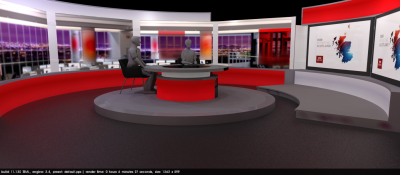 And then we have the right-hand side of the studio, with four (opposed to three in London) screens (let's say rear projected), a small rostrum with a height-adjustable desk (I did say it was a micro Studio B), and then two 103 inch televisions to form our micro-newswall. Mike W's fantastic backdrop is finally seen here, and fits in a treat and looks great. As you can see, those colour changing strips are everywhere, and there's enough space for a camera to be able to fit behind the rostrum. Lovely. I'm not quite sure whether to replace the height adjustable desk with the one they use in London and Wales, so I'll probably experiment there.
Newsnight Scotland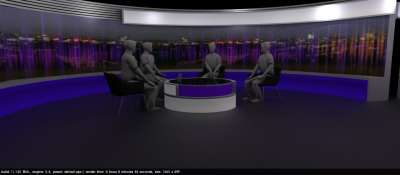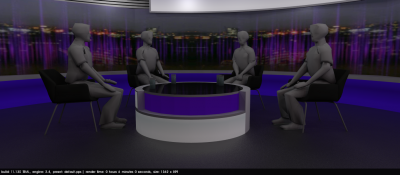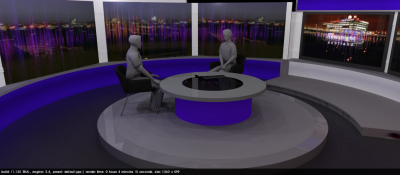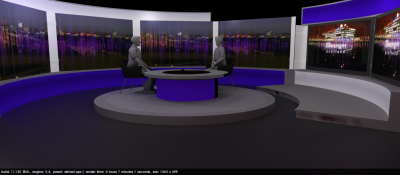 Next we have Newsnight, lit up in dark blues and purples, and looking rather dark and lovely, especially when compared to what they use currently. The bars have changed, the screens have changed and the coloured in-set in the small desk on the left-hand set has changed. I've also 'turned off' some of the lights to make it a bit darker.
Sunday Politics Scotland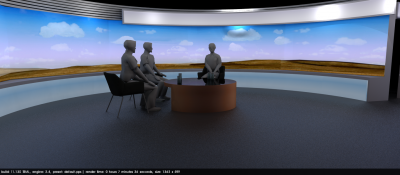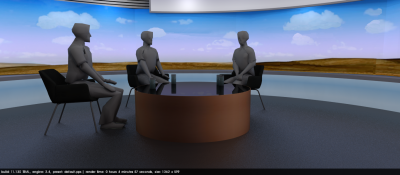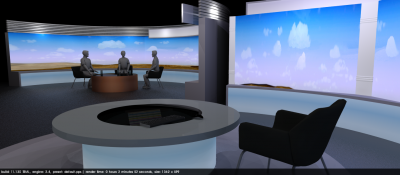 After that it's Sunday Politics Scotland, and I'm pretty pleased with how this has came out. The backdrop is a bit dodgy, as it comes from when Sunday Politics used some graphics which saw text and a Party logo appear on-top of the backdrop, which panned all the way across. I've attempted to stitch it all together (the result being a bit dodgy in some places), and I've used the 'Clone stamp' tool in Photoshop to get rid of all the text (there are a fair few more clouds in there as a result!), and I think it does the job. The desk is an awkward one, and doesn't have any rivets on it, but I intend on trying to put them on, and putting a bit more light on the desk in general - when I update the mock I'll change that.
Sportscene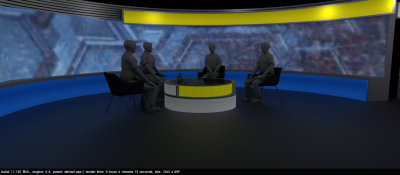 Then, finally, BBC Sport Scotland's production. I've thrown together backdrop to go on the screens, taking the hexagons from Final Score (which are, in turn, from Blockbusters, but it's likely to be replaced by something better (I did try to create something from caps of the titles for Sportscene, but it looked terrible). Again, I'm undecided on the colours (I think they contrast too much), so they're open to change.
And there we have it. That's about it for now, although I will be tweaking and updating things - any comments welcome (constructive or abusive). Thanks for reading through all of that!