DF
After hearing that BBC Midlands Today is getting a new set - I thought I'd try and come up with a realistic idea for the set. I've tried to keep the set itself about the same size as the studio in The Mailbox but I don't have exact measurements so it might be a bit off.
Click on the pictures so they are enlarged - looks a lot better that way!
As it's been suggested there is a desk on the way - I included a desk area: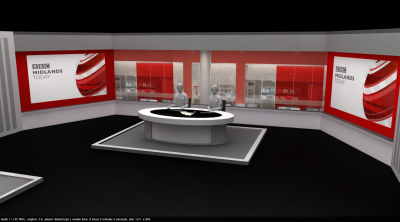 It's a slightly similar set up to
N6
with a screen on each side for presenters for down-the-line interviews or graphics - and some standing room for weather/other presentation. The red screen surrounds are lit with LEDs and can change colour to suit the program.
In front of the desk there are some more lightboxes, with a screen and sofa/coffee table. In Midlands Today it could be used for sports, and/or in a similar way to South East Today where they move to the sofa halfway through the main program.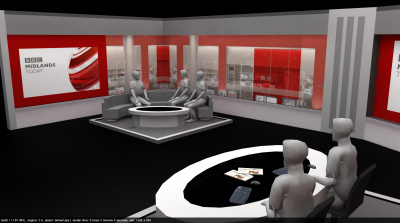 The printed newsroom can also be backlit in a different colour so could be used for Breakfast updates: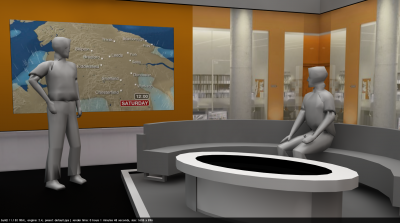 And of course, Late Kick Off and Sunday Politics which would use printed backdrops that go over the lightboxes - sorry the quality of the backdrops is very bad!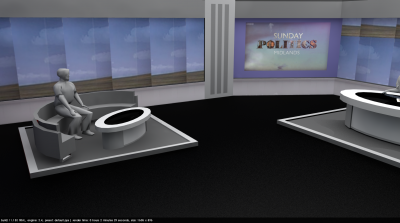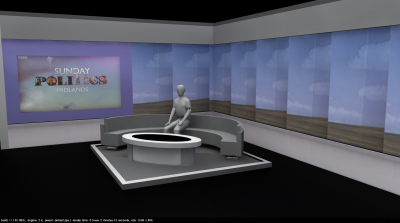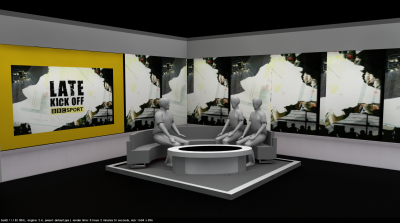 I used silver/grey colours for a lot of the set to avoid any clashing colours, such as a red sofa on Sunday Politics.
All and any comments and suggestions are welcome