NJ
Here's a couple of screenshots from recently aired Dad's Army episodes:
Two screenshots from last night's airing, click for bigger: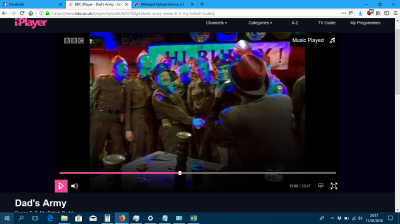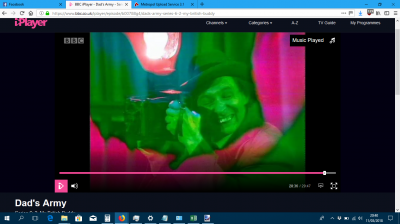 Think this may be related to
this thread
but basically the context in the episode is a photo's just been taken in both shots, the first one from behind Cheeseman (the photographer, he later effectively replaced James Beck for a series the following year). The second shot is directly looking at the white light and physics tells us white light is full intensity RGB which presumably tube cameras didn't like and it amplifies the "sticky" effect in the linked thread? But from the first shot the white light on the camera isn't visible to the (recording) camera so presumably it's picking up reflections off the back of the set?
The below shot is from the infamous "don't tell him Pike!" episode, aired a couple of weeks ago, again click for bigger: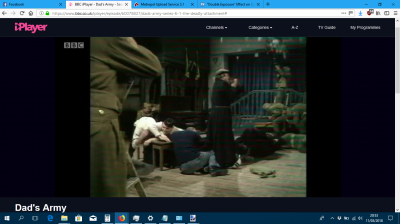 the above works better as a visual clip, see from 19 minutes here:
https://www.bbc.co.uk/iplayer/episode/b0078827/dads-army-series-6-1-the-deadly-attachment
You can see distortion on the picture when Corporal Jones is firing the Lewis gun on the stage, though it varies in intensity between the two camera shots, the wider shot seems less "affected". I'm sure I read elsewhere a similar effect happens in Dr Who sometimes and again I think it was down to the cameras used or something to do with air vibration?