NW
Having been inspired by a conversation on The Simpsons in the UK thread ongoing in the main forum and a couple of Twitter posts, what are people's memories of adapting to Digital TV? More so if you were an early adopter back in 1998, 1999 or 2000 when only a smaller number of households had Digital TV services. As we've had more time to recollect and think back of late, we were promised back in the 1990's that this would change our lives and change the way that we watched TV and how we interacted with our TV's.
To answer that, I would say Yes and No. Yes because the way we watch and consume TV has changed, through means of other channels as an On Demand streaming services. No, because the vast majority of people use their TV's to do one thing, to watch TV. They don't use it so surf the web or speak to friends with.
To throw my hat in the ring, prior to switching to Digital in 2000, we had Analogue Cable pumped into our house, firstly by NYNEX, then Cable & Wireless, before they were sold off to NTL. By the time we upgraded, C&W Digital TV Service had become NTL Digital Plus. C&W had switched on their Digital service back in the summer of 1999, a small number of analogue channels were turned off to get viewers to upgrade. See the start of the below clip from my YT channel:
My friend had C&W Digital at his house and it looked amazing by 1999 standards. Indeed, one of the channels had a round the clock preview which showcased all of the amazing interactive features that were due to come, such as playing along with quiz shows as they are shown on TV.
Due to the increased cost of the monthly packages, my parents were reluctant to upgrade (I was only 12 at the time) and we stuck with Analogue until December 2000 when the price came down a little bit.
When switching to Digital, we were given the below Set Top Box, the Pace 1000...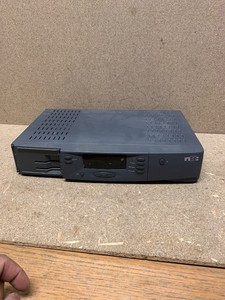 These boxes were near enough standard in the roll out of Digital Cable for C&W areas for those served by Telewest. The word being that the hardware and software were deliberately designed like this as C&W and Telewest were looking at merging, however that did not happen. As a result NTL bought out C&W's consumer division meaning that a lot of what had been promised was put on hold, or never materialised.
When we had Digital installed I was very impressed at the number of channels that immediately became available and channels which we were used to that no longer timeshares, e.g Nickelodeon. At first I was also impressed at what Digital offered, namely the Interactive services that gave you access to many new web based Apps. Whilst we did not get Digital Teletext, we got a Digital version of Teletext, we got in-depth ITN news. You could access banking, send emails or order pizza. (Who needs smart phones?) It was all good to see and there was no requirement for a phone line. Screenshots of this remain on MB21, at:
http://teletext.mb21.co.uk/gallery/digital/ntl2.shtml
However, my enthusiasm with it was a bit short lived. I guess like most teenagers you wanted more from the TV and NTL simply did not do that. The Interactive software and the STB in general crashed frequently. The number of Apps and service slowly declined over a year or so, leaving it only as a News based interactive service, not even one with access to on demand video. The Interactive future two way computer action fad with your TV was as dead as the dodo.
For those who remember, NTL had two separately based Cable systems, Bromley and Langley. Bromley home to the ex-C&W system, which meant that NTL had two separate looking systems for a good 2 to 3 years before they did anything about it. Ex-C&W customers having the latter of the two.
http://images.digitalspy.co.uk/cable/ntlcr2/tvguide.jpg
Took until 2003 for NTL to get their act sorted and to upgrade their systems which meant that the
EPG
's on both systems were almost the same and they then got proper interactive, but by this time it didn't mean much other than multi-screen Wimbledon on BBCi.
At this point we were accustom to a rubbish Digital TV service, but it gave us the channels we wanted and my parents were reluctant to get Sky or a dish installed.
For the last few years of my life I have been a Sky customer and I've never had any fault with this. If I had my time again certainly I'd have been more encouraged to get Sky over NTL installed.
I'm interested in what other experiences people may have had with Digital back in its early days. Did you pay £200 to get Sky installed, only to be free 6 months later. Did you get On Digital and found that you had the wrong aerial. Any stories or rants are welcome.