IT
Hello,
I was hoping if anybody is in possession of any breakdowns that happened on the BBC from 2002-2006.
Reason being is that I've been trying to hunt down this one breakdown for quite a while, now. It happened at the start of Wallace and Gromit back in Christmas of 2002, where the programme starts playing on top of the "Music Video" ident, with a sudden cut to the breakdown caption where the
CA
starts laughing whilst apologising for the fault.
I've been wishing for a full version of this breakdown to be back up online for a while, there is short version of this breakdown on TVWhirl, but this only shows the ending of the breakdown, where after a few minutes with some music, the CA apologies again says something along the lines of "We can now go to Best Inventions" completely missing out the Wallace and Gromit short that night!
There is another one I can think of which I did see not too long back where I was watching an old FA Cup match and the picture starts glitching and freezing, before it eventually dies altogether, with this caption appearing.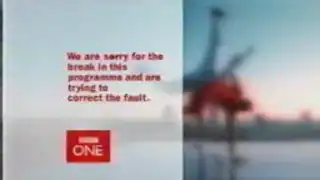 More would be appreciated, if there's any library music and you can't give any out, I completely understand.
Many thanks.