NJ
Initially I thought this might be another "tube camera effect" but since I've already written this post here's a screenshot from tonight's Dad's Army, click for bigger: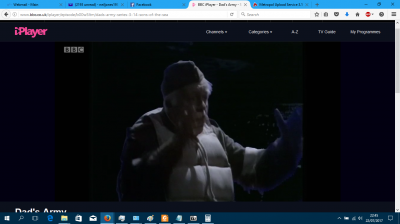 (from
this episode
, 13:52 in.
It's pretty obvious the motion background in this scene is a blue screen effect, enough to make anybody sick just watching it but that's beside the point. You'll notice Godfrey seems to have a blue left arm when he puts it up, obviously the background leaking through around him.
In a previous topic
here
, we mentioned that the red tint/halo around the candle was due to the tubed cameras in use at the time, that from a later Dad's Army in the 1970s. Is the same true here (this episode is from late 1969), or is this just a simple case of colour spill and was that effect fixable at that time, bearing in mind the episode was recorded a week before transmission.