NJ
Here's a screenshot from tonight's airing of Dad's Army (click for bigger):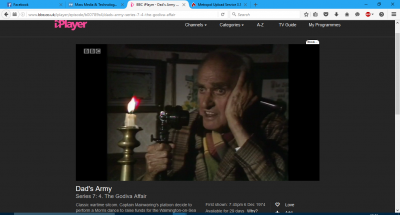 Notice predominantly the red tint around the flame of the candle which is kind like a "shadow" effect of where the candle was a momet previously. This is better demonstrated by the actual video in question:
http://bbc.in/1DQQHVA
(scene starts from 10:25)
I did read somewhere about the cause for this "shadow/double exposure" effect on things like candles and lights and it was either due to the cameras used or the videotape used in studio recordings in the 1970s - it certainly wasn't unique to Dad's Army. And of course I can't find it.
I presume the effect could appear with any of the three primary colours and it just happened to be red in this case?